Enough time has passed that more and more people are starting to get the taste for heroic content. A question I get often from ferals who actually study the best class in wow is, "Hey, once I get heroic gear, I just reforge mastery and haste instead of mastery and crit right?" Well, the answer to this can be very tricky, and the only way to answer it truthfully is using the Mew program to determine exactly where you are, stat-weight-wise. Mew itself is pretty self-explanatory; as I mentioned before, I'm not a theorycrafter, but I do believe everyone needs to understand on the most basic level how to use this program. Before you can make sure you're fully ready to tackle the raid content ahead of you, you must have your equipment in the best possible condition. This Mew process the first time will take 10-15 minutes; and less than 5 after that.
First, you can get to Mew through the sidebar of this site, Alaron has made numerous feral tools easily available to us. You'll notice a few different links on the site you just want the click the hyper linked "here" to take you to the most recent page. You'll be promoted a window to run the program, of course click run then the real fun starts.  Your screen turns an ugly shade of grey until you go from file to new then it's really just a boring game of fill in the blanks with the correct answer. Remember all information you place in here is your unbuffed caster form stats, so take off that Motw and let's see your armor. I suggest doing this next to a reforger.
The first time you set up Mew you just go down the list plugging your character information in. As you can see via the crit chance for all values you are looking for the rating, which means mouse over crit chance as I have done, then enter the rating value indicated there. (You'll need to mouse over each stat individually and enter each rating value as I have done for crit)
(Please Click the Pic for the zoomed in version)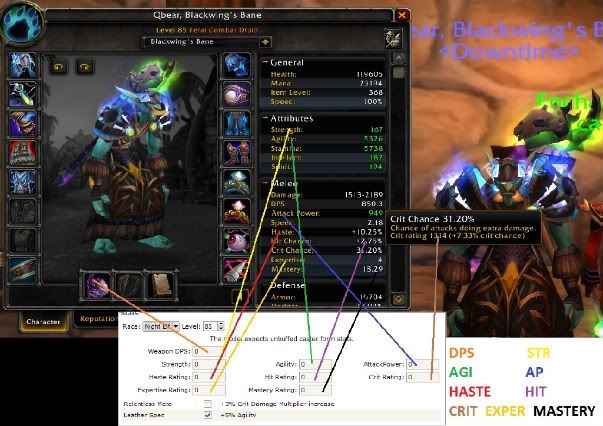 Basically when all is said and done you should end up with something that looks like this: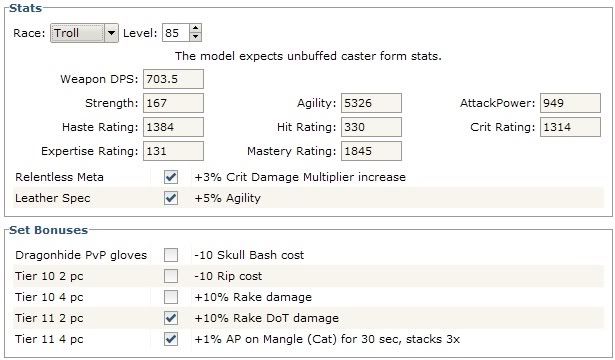 Now comes the part where your going to be happy I told you to do this next to the reforge guy because after you set all this up, then go through to click your trinket procs and raid buffs (it's important to click the trinket procs and raid buffs you ACTUALLY HAVE in your raid group. Raid buffs make your stat weights different so be sure not to click a buff you wouldn't actually have.) Then you click the button on the right that says Calculate. Ladies and Gents, that button is going to be your friend. You will then notice two tabs one for dps or as they call it model output, and of course the one we love is relative stat values.
I've heard the phrase in heroic gear haste > crit and that's actually arguable. In 372 Haste is approximate to Crit is a better phrase and that's what you'll be trying to achieve in reforging your gear. Basically once you start getting heroic gear and you notice your haste stat value is now higher then your crit, you want to reforge everything to mastery then to haste, until on your personal stat value haste and crit yield roughly the same dps increase. This will take time. Reforge, recalculate, then reforge, then recalculate, then reforge, recalculate the process is rewarding but not much fun.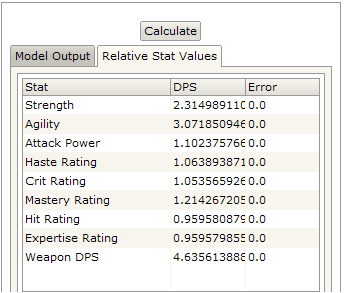 As you can see from my values Haste remains roughly .01 dps above crit; however, this is as close as I could bring the two. It's important to keep your gear in perfect raid condition. I'm the only feral in my raid group; however, for those in guilds with more then one feral I suggest you guys meet up on vent after raid and take the 10 minutes it takes to get this done. This might not get you a ton of extra DPS, but if you've ever wiped on a boss at 0%, then you know how important even little improvements can be.
As I said before, all this should be done after you pick up a few 372 pieces. By a few I literally mean 2 or 3, it's amazing how quickly haste starts to take over crit in very little heroic gear. As always please comment or email me any questions you have on basic uses of Mew.
Until next time.
-Qbear