The preview of Tier 12 has been release; however, I do my best to hold off judgement until I have the set equipt on my toon.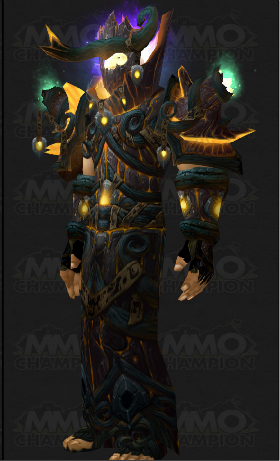 Now that we have shoulders I really do have to say I'm digging the set. The helm for me will be turned off, but I'll leave personal judgement up to the rest of you guys. The set with it's different possible color combinations can be viewed here. However, since it is Firelands I do believe that the red set will be the one we receive first.
Set bonuses seems interesting, though are subject to change:
2p Bonus- Your attacks with Mangle, Maul, and Shred deal 10% additional damage as Fire damage over 4 sec.
4p Bonus- Your finishing moves have a 20% chance per combo point to extend the duration of Berserk by 2 sec.
The set bonuses have been a high topic of discussion. Yawning fears that if the fire damage proc works much like the old Ignite munching mechanic that it could end up being extremely lack luster in terms of dps gains. While at the same time the current purposed 4 set bonus has lead other feral theory crafters into the thought process that using less then 5 combo point finishers can potentially lead to a higher up time on our 4set bonus. The whole math process can be viewed here. Basically it comes down to statistics. Using less combo point finishers at a higher rate is more probable to increase our berserk longer then waiting for the 100% chance we would gain waiting for 5 cp's.
Either way at this point the set bonus are subject to change as they have for our resto counter parts. In major glyph news the Furious Bite glyph now reads:
Glyph of Ferocious Bite has been redesigned. It now causes Ferocious Bite to heal the caster for 1% maximum health for each 10 energy used.
Considering how lack luster our major glyphs have been for feral so far in Cata it is awesome to finally have a reason to say that when it comes to specing feral this major glyph is one you should not be without.
As always I'm Qbear feel free to leave comment on what you think about the set look or the set bonuses announced thus far. There is a good thread going on our forums on all the patch 4.2 nonsense so be sure to go there and take a look. (Link at the top of this page.)