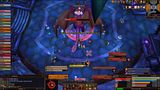 Addon List:
Elv UI
Recount
Omen3
BigWigs
DroodFocus
Download:
http://www.fileswap.com/dl/wlftehWcWh/Qui.zip.html
In order to make it work properly unzip the file and copy and paste my Interface and WTF folders in place of yours. Before replacing my WTF folder with yours remember to change the ACCOUNTNAME, SERVERNAME, and TOONNAME to reflect your account, server, and toon's name respectively.
All credit goes to addon authors I do not work for or contribute to the development of these addons in anyway, I was simply asked to upload my UI for people to enjoy so here it is.
I currently run in 1920 by 1080 so that is the best resolution to truly maximize what you see in my videos.