Sadly I can not claim this as my own as it was one of my fellow droods in guild that wrote it, but I laughed so hard that I thought I'd share.
Btw-I'm not posting all of it just yet. If ppl like it and want me to post the rest, I gladly will.
-------------------------------------------------------
Heroic Ultraxion is a Hardmode fight that is of medium difficulty (at least on 25Hman, on 10H man he's a bit easier).
Some people claim that the main cause of difficulty in this fight is a tough enrage timer (even with only 5 healers and a 10% HP nerf, a 25-man raid can easily hit his enrage timer if all dps are not maximizing their output). However, this is not the most difficult part of the fight.
The most difficult part of the fight is pressing your button.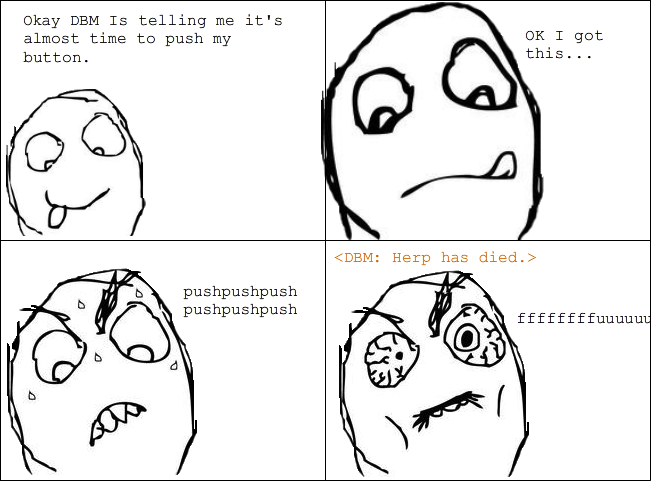 In this guide, I will do my best to explain my personal button-pushing strategy. I will admit, when I first started working on Heroic Ultraxion, I failed to push my button on more than one occasion. Sometimes I failed in NOT pushing my button (that is, I pushed it too soon). However, once I developed this button-pushing plan, I soon found myself with one of the highest survivability rates of the entire raid. Observe:
http://www.worldoflogs.com/reports/rt-e
... boss=55294
I will break this process down so that even the most pants-on-head raider can understand the process. Soon, you will be a button pushing master as well.
--------------------------------------
What to expect when you're expecting (to push your button)
As with many things in life, the first step to overcoming poor button pushing is admitting you have a button pushing problem. Many people will try and make excuses for their poor button pushing:
- They had lag/latency
- They pushed their button, honest, they did, the game must be broken
- They were going to push their button but then their cat caught on fire and they couldn't
- They're usually healer for this fight so they're not used to pushing a button
- Blizzard hates paladins and actually made it harder for them to push the button as punishment
You may have your own excuse as to why you died. But you have to look inside yourself and come to terms with the fact that you're just not good at pushing buttons.
Close your eyes. Relax your breathing. Ask yourself, "Am I really doing my very best to push my button?" Now be honest with yourself. No one else is listening. There, inside your heart, where your inner raider lives, you can hear the quiet answer: "No."
If you can admit this, you are ready to take the second step towards become a more better button pusher.
If you can't admit this, what are you, a bottom street stupid dweller?
----------------------------------